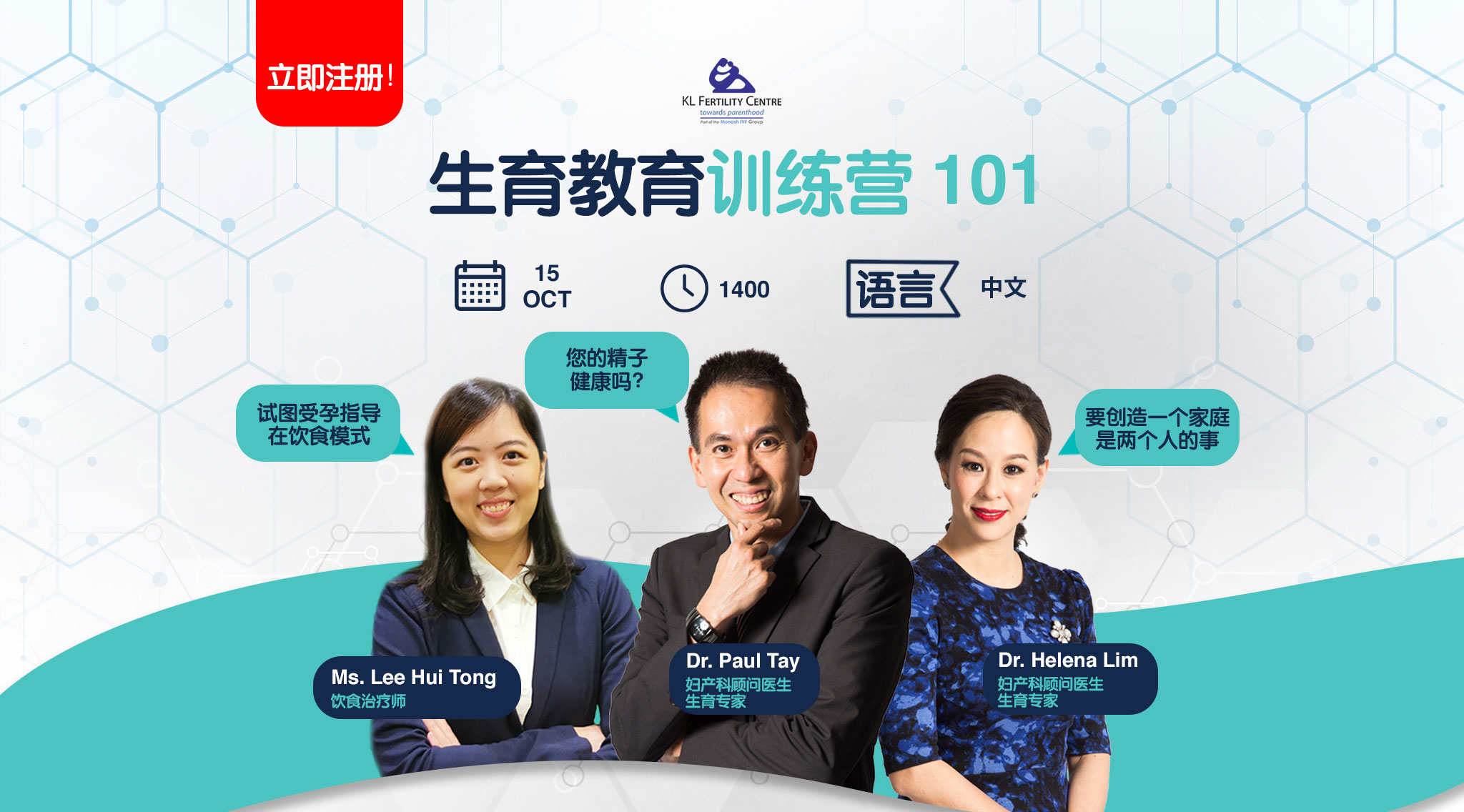 Online Webinar with
Ms. Lee Hui Tong, Dr. Paul Tay and Dr. Helena Lim :
生育教育训练营 101 (Fertility Bootcamp 101)
您有疑虑自己的生育问题吗? 对受孕有任何的问题吗? 加入我们的十月网络研讨会!
Ms. Lee Hui Tong, 一位饮食治疗师,将和大家讨论最佳减肥计划,促进受孕的食物(男性和女性!), 以及分享在预算内的生育食品。让您了解更多有关健康饮食的概念和如何选择对的食物。
想了解更多关于男性不育的知识吗?Dr. Paul Tay, 一位生育专家,将在该主题上分享更多资料;从精子产生背后的生物学到男性不育症治疗。
另一方面,Dr. Helena Lim, 也是一位生育专家,将会分享有关女性不育的知识。让您详细了解女性不孕症的体征和症状以及如何接受检测。
以下是详细资料:
📅: 2022 年 10 月 15 日
🕛: 2.00 pm – 4.00 pm
🗣️: 中文
📍: Zoom
Join us this coming 15 October 2022 on our segment titled Fertility Bootcamp 101.
Ms. Lee Hui Tong, a dietitian, will be discussing weight loss fads, conception-boosting foods (for both men and women!), and a budget version of fertility foods. Find out more about healthy diets and ideas on what to put on your plate.
Want to learn more about male infertility? Dr. Paul Tay, a Fertility Specialist, will be sharing more on that topic; from the biology behind sperm production to male infertility treatments.
On the other hand, Dr. Helena Lim, who is also a Fertility Specialist, will be sharing about female infertility. Learn more about the signs and symptoms of female infertility and how to get tested.
Here are the details:
📅: 15th October 2022
🕛: 2.00 pm – 4.00 pm
🗣️: Mandarin
📍: Zoom
#KLFertilityCentre #towardsparenthood #fertilityjourney #challenges #conceive #pregnancy #baby #21stcentury #ttc #tryingtoconceive #webinar #gettingpregnant #fertilitybootcamp #guide #ivf2022 #tips #getpregnantfast
Event Details
试图受孕指导在饮食模式
您的精子健康吗?
要创造一个家庭是两个人的事
Date: 15/10/2022
Time : 2:00pm