IVF Treatment @ KL Fertility Centre
---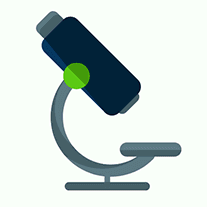 ART Laboratory: Technology, Skills & Equipment
A critical place where embryo are created and high standards are maintained.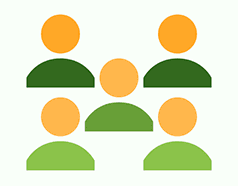 Our People
The human touch that pulls all this technology together and there is no substitute for experienced and highly skilled staff.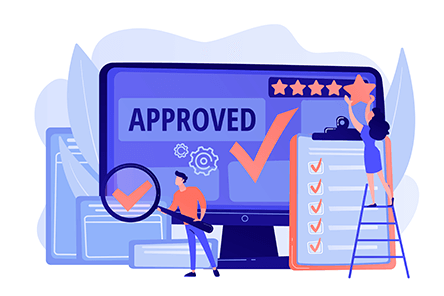 Training, Quality & Standards
Regular medical education for healthcare providers and continuous improvement on quality and standards are essential for the provision of reliable services to our patient.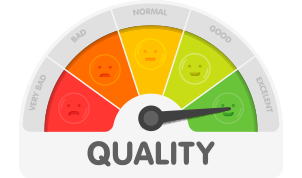 Overview
The cost of IVF is usually based on per "cycle", which involves series of fertility drugs administration, monitoring the growth of eggs, harvesting and fertilising the eggs and replacing one / two embryos into the uterus. It does not include the preliminary investigations and consultations with the Fertility Specialist prior to the start of IVF.
Although there are standard IVF packages that a couple can consider, an IVF treatment regime may not be the same for everyone as every woman's reproductive cycle is different.
Our basic IVF treatment package includes the following :-
Ovarian stimulation drugs
Daycare ward admission & anaesthetic requirements
Fertility Specialist professional fee
Consultant Anaesthetist professional fee
Nursing care
Egg collection procedure
Embryo transfer procedure
Laboratory procedures
Other miscellaneous that are not in the basic IVF package :-
Gamete/embryo freezing & long term storage
Intracytoplasmic sperm injection
Therefore, before a couple undergoes IVF, they will be given Financial Counselling by our Nurse Counsellors to know the potential full cost of treatment and allows the couple to make a more-informed decision. If you would like to know more, please drop us an email at mgmt@klfertility.com and we shall attend to it personally.
Reproductive Technology Accreditation Committee (RTAC)
Certificate of Compliance
Each procedure and process is properly documented and controlled to give our patients and confidence and reassurances that they are being looked after by certified and qualified personnel.
KL Fertility Centre's srevices, standards & results are the same as you can get from Australia, New Zealand & Singapore.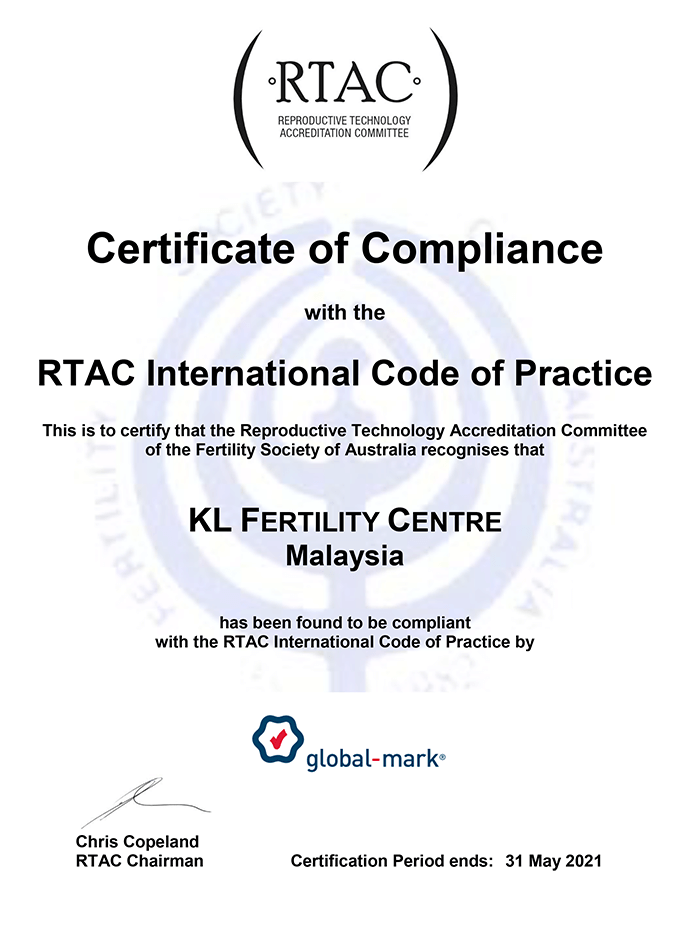 Many couples view IVF as an expensive treatment to embark upon, especially when a successful outcome cannot be guaranteed. And for this reason, many couples decide not to attempt a cycle and thus deny themselves the chance at becoming parents.
To be fair though, the costs of IVF have remained almost constant in the past decade, due mainly to the fact that doctors realize the burden of finance and have instituted measures to reduce costs. While some of the cost-savings may not result in any substantial change to the quality of the IVF cycle, patients have to remember that beyond a certain point, the chances of achieving a healthy live birth may be affected.
The total cost of an IVF cycle can be broken down into three large groups. The first is the cost of the hormonal medications which are required to stimulate a woman's egg production. Due to the complexities of the process, these hormones are produced by only a handful of companies worldwide and are costly.
Secondly, the IVF laboratory takes responsibility for nurturing the sperm and eggs and generating embryos which eventually become your baby. Maintaining high standards and investing in the highest quality equipment and materials is a costly proposition. Any compromises here risk the success of the whole IVF cycle.
And finally, it is the human touch that puts all this technology together. In the search for ever-higher pregnancy rates, there is no substitute for experienced and highly skilled staff, along with the constant upgrading of skills and equipment. These human resource and investment costs eventually do add-up.
As with anything else, higher levels of training, investment and raw materials usually add-up to higher IVF costs. And higher quality explains why some IVF clinics have consistently high pregnancy and delivery rates. Every IVF unit has pregnancies, it is just a matter of how many.