Dr. Rathigah Marimuthu, qualified as a doctor from Manipal Academy of Higher Education (MAHE) in 1995. She then further obtained her specialist degree in Anaesthesia and Intensive Care from Universiti Kebangsaan Malayia in 2006. She has been a Consultant in Anaesthesia since and has done a variety of cases, but has special interest in Anaesthesia for Daycare Surgery.
MBBS (Manipal, India), M. Anaesthesia (UKM)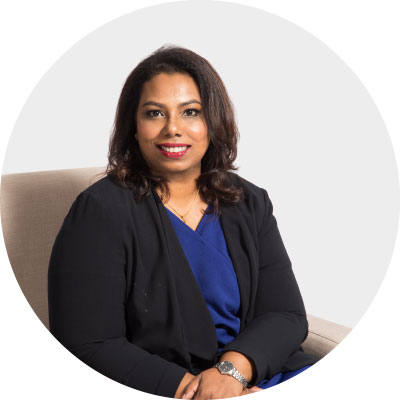 More about Dr Rathigah Marimuthu
Dr. Rathigah did her undergraduate medical studies in Manipal. After her completion she served as a house officer in University Malaya completing all her postings. Following that she went on to serve as a medical officer in Penang where she was in Anaesthetic Department and soon went on to pursue her specialist degree in her newfound passions, Anaesthesia and Intensive Care. She continued to work in Hospital Kuala Lumpur as a junior registrar and went on to a senior registrar in Universiti Kebangsaan Malaysia (UKM) in 2003.
She completed her specialist qualification in 2006. After becoming a specialist she served in Hospital Selayang, Hospital Kajang, Hospital Putajaya and the National Cancer institute over the last 10 years. During this time she was involved in managing various cases in Operating Theatres, Intensive Care Management, Daycare Surgeries and also Pain Management.
She was also actively involved in being mentors to house officer and master students training. She also got into the Basic Life and Advanced Cardiac Life Support committee as a trainer and facilitator at Hospital Putrajaya. In addition she also presented a poster presentation in Malaysian Annual Scientific programme in Johor Bharu in 2010.
Dr. Rathigah joined KL Fertility Centre as their Consultant Anaesthetist in 2016 as her main interest is in Daycare Surgery. She helped in setting up the Operating Theatre and Daycare Ward. Her role here is to provide anaesthesia for egg retrievals as well as any procedure which requires anaesthesia. She is directly involved in pre- and post- procedure or surgery and ensures that all patients are well before discharging them from her care. She also keeps up with the new developments in daycare surgery by attending workshops and conferences to give patients the best of care.