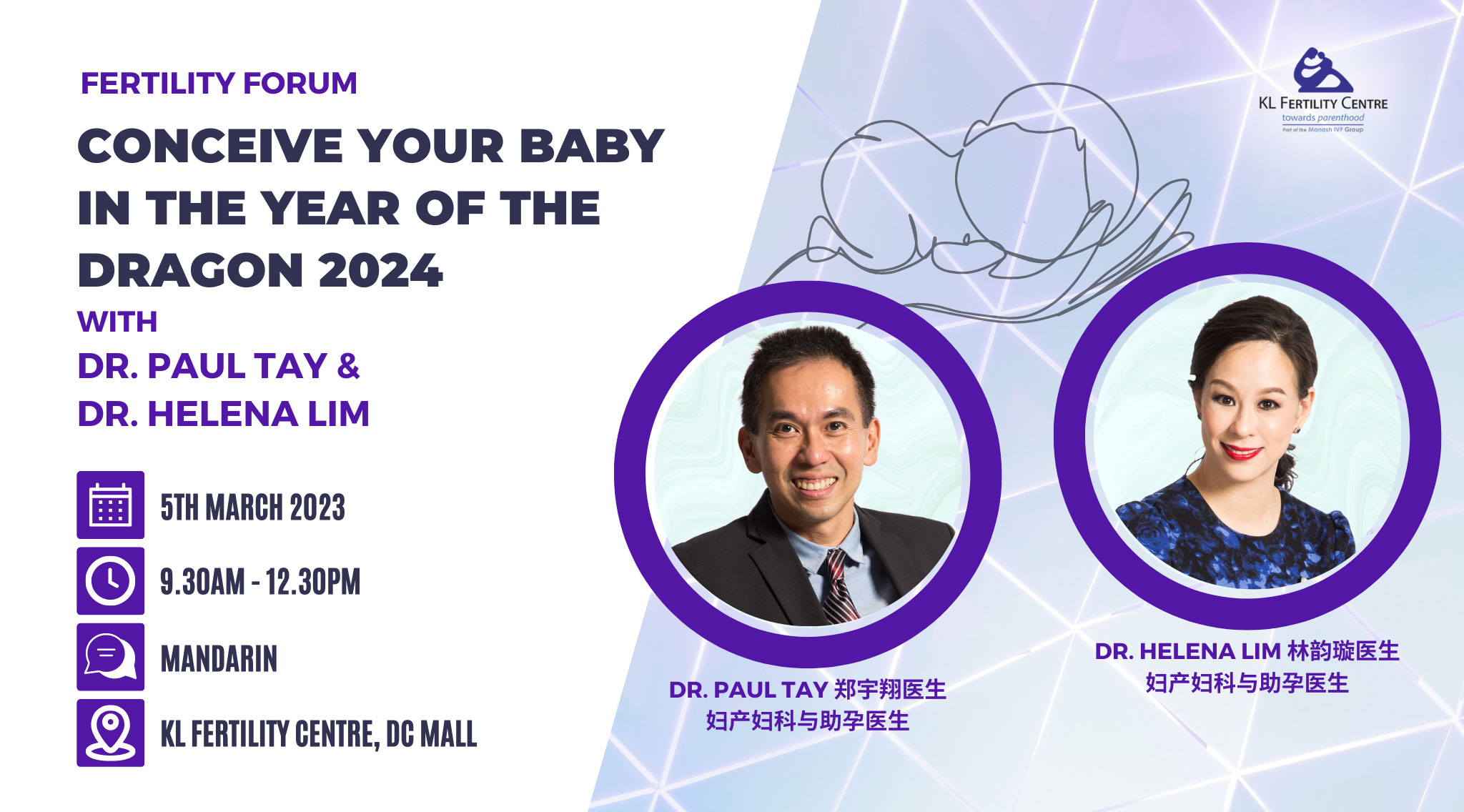 Fertility forum with Dr. Paul Tay and Dr. Helena Lim :
CONCEIVE YOUR BABY IN THE YEAR OF THE DRAGON 2024
The upcoming Chinese zodiac year of the Dragon (2024) is something that intrigued us, especially among the Chinese around the world for they believe this is auspicious. The mythical creature is regarded as a symbol of might, intelligence, positive energy and is said to be destined for success. If you are trying to conceive during this auspicious time, join KL Fertility Centre, Dr. Helena Lim and Dr. Paul Tay on the upcoming fertility forum in embracing the Year of The Dragon.
In "Navigating Your Way Towards Parenthood 规划您的生育之旅", Dr Paul Tay Yee Siang, a Fertility Specialist, Consultant Obstetrician & Gynaecologist will discuss the basics of human conception, fertility health tips and how to start your fertility journey.
At the fertility forum, get a chance to hear Dr Helena Lim's talk "From hope to joy with A.R.T 从希望到喜悦 – 应用辅助生殖技术" where she will be covering topics on types of fertility treatments, what to do if the first fertility treatment fail and Dr. Helena Lim will answer some frequently asked questions most couples have.
In our efforts to ensure safety and to avoid overcrowding, seats are LIMITED TO 30 COUPLES. Guarantee your seat now to join our 1st fertility forum of 2023. Light refreshments will be served and a goodie bag filled with surprises will be waiting for you.
Hurry up! Sign up now!
Here are the details:
CONCEIVE YOUR BABY IN THE YEAR OF THE DRAGON 2024
Fertility Forum
📅: 5th March 2023, Sunday
🕛: 9:30AM – 12:30PM
🗣️: Mandarin
📍: KL Fertility Centre, DC Mall, Bukit Damansara
#KLFertilityCentre #towardsparenthood #fertilityjourney #challenges #conceive #pregnancy #baby #21stcentury #ttc #tryingtoconceive #webinar #gettingpregnant #dragonbaby #guide #ivf2023 #tips #getpregnantfast
Event Details
FROM HOPE TO JOY WITH A.R.T
从希望到喜悦 – 应用辅助生殖技术
NAVIGATING YOUR WAY TOWARDS PARENTHOOD
规划您的生育之旅
Date: 05/03/2023
Time : 9:30am – 12:30pm