WHAT IS MY CHANCE OF GETTING PREGNANT?
The chance of conceiving following treatment is variable. It is determined by many factors including the woman's age, weight, duration of infertility (the shorter the duration, the better the chance), and the cause of infertility. The female partner's age is a very important factor as it relates to the reserve of good eggs remaining in the ovaries.
KL FERTILITY CENTRE
PREGNANCY SUCCESS RATES

FRESH EMBRYO TRANSFER
From your IVF cycle, we may be able to produce a number of viable embryos. However, due to the risks of multiple pregnancies (especially triplets or quadruplets), we aim to replace no more than two embryos each time. The rest are frozen. As you can see from the chart x % became pregnant from the first embryo transfer.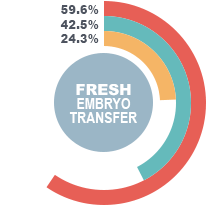 FROZEN EMBRYO TRANSFER
If the first transfer did not result in a pregnancy, the majority of patients were able to return and have their frozen embryos replaced without going through another full cycle of IVF (ie no injections, egg collection procedure, etc). THese patients once again had an extra % pregnancy rate as shown in the chart.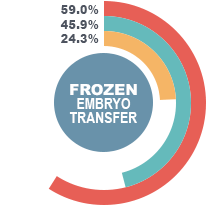 TOTAL PREGNANCY RATE
FRESH & FROZEN EMBRYO TRANSFER
The chance that you will be pregnant from one IVF cycle, ir the total of the fresh + frozen embryo transfers, is shown in the chart here. As you can see the 76.6% of our patients below 35 years achieve pregnancy from a single IVF cycle and as you age, this rate comes down but still remains good.